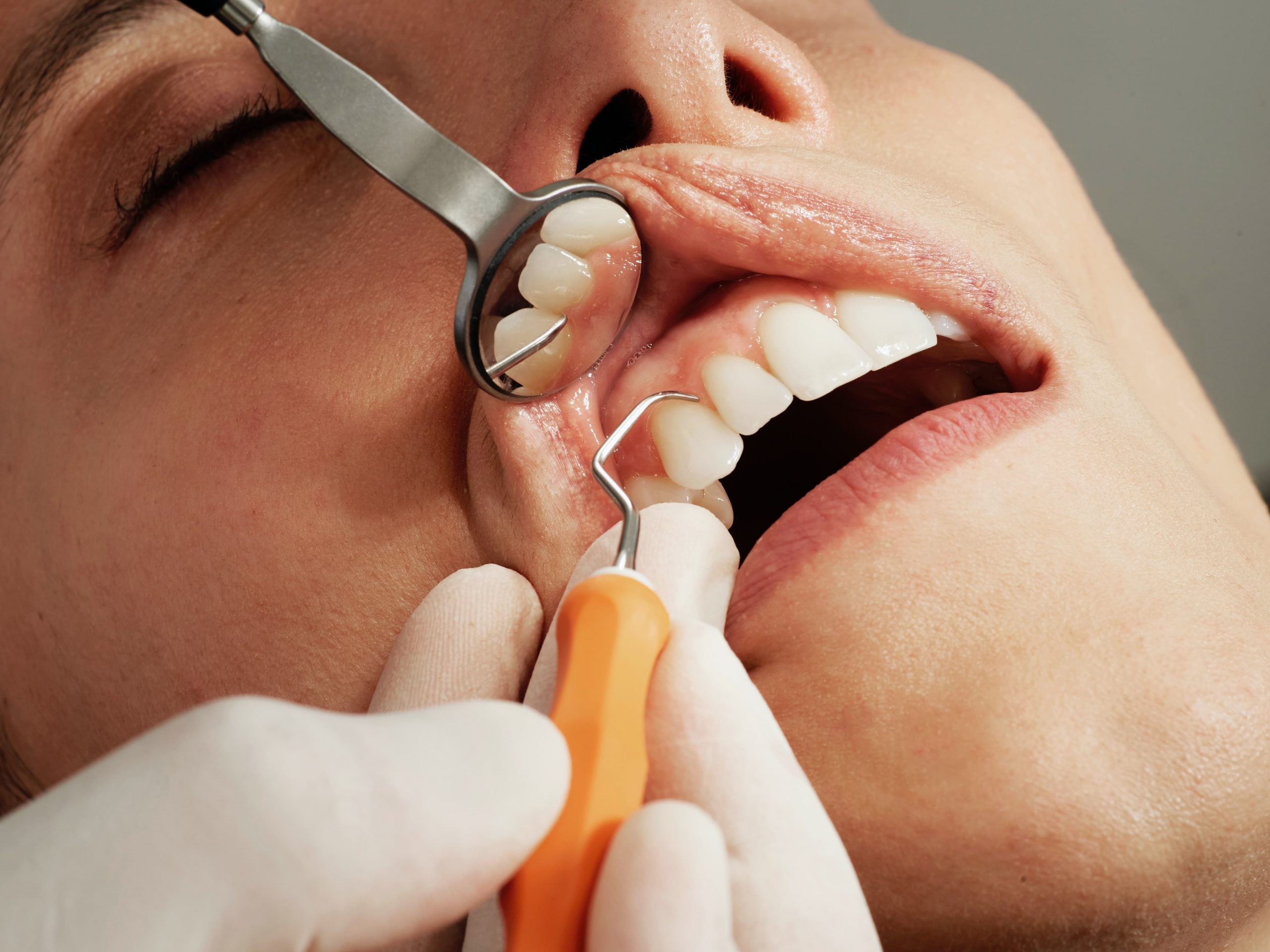 Gum disease, also known as periodontal disease, is an infection of the gums caused by an excess of bacteria-filled plaque building up around the gumline of your teeth. When gum disease goes untreated, it can result in tooth loss for adults and can lead to additional health issues, including strokes and cardiovascular disease.
During your bi-annual preventative dental cleaning, your dentist may recommend teeth scaling and root planing if your gums show signs of gum disease.
Signs of gum disease include:
gum recession
swollen gums
bleeding gums
loose teeth.
What exactly is teeth scaling and root planing?
Will it help improve the help of your gums?
Follow along as Bridge Creek Dental shares everything you need to know about teeth scaling and root cleaning.
What is teeth scaling?
Upon your dental visit, your dentist will determine if you're a candidate for teeth scaling. Periodontal scaling and root planing are often the first steps in treating gum disease. The goal of teeth scaling is to thoroughly remove all excess plaque, bacterial toxins, and tartar buildup from your teeth and root surfaces irritating.
To do this, your dentist will use manual hand instruments or ultrasonic instruments to remove the plaque and calculus from the surface and underneath the gum line down to the periodontal pocket.
What is root planing?
Following periodontal scaling, your dentist will plane the rough surfaces on the roots of your teeth due to the scaling process. The goal of root cleaning is to help your gums reattach to the teeth now that the buildup has been cleared away.
Creating a smooth surface on the root makes it more difficult for bacteria, plaque, and tartar to re-adhere underneath the gum line. Depending on the severity of your gum disease, your dentist may recommend multiple appointments to perform both teeth scaling and root planing to ensure everything is done thoroughly.
In most cases, you will also have a follow-up appointment with your dentist to ensure your gums are healing properly.
How to prevent gum disease
To prevent periodontitis from developing (or worsening), try these methods recommended by the team at Bridge Creek Dental:
Preventative Dental Care – Do you visit your dentist twice a year? One of the most effective ways to prevent gum disease is by having bi-annual preventative dental cleanings where your dentist can watch out for signs of early gum disease. Your dentist will also provide a thorough cleaning that removes excess plaque and tartar buildup.
Oral Hygiene Routine – Take a look at your current oral hygiene routine to determine if there is anywhere, you can improve your process. Are you brushing your teeth for the recommended time of two minutes? Are you flossing your teeth regularly? Does your routine include mouthwash to remove excess bacteria from building up? Try incorporating an oral hygiene routine that consists of brushing and flossing twice a day, followed by an antibacterial mouthwash.
Diet – This suggestion often comes as a shock, but eating a balanced diet can improve the health of your smile! Certain foods can make your mouth more prone to bacteria buildup, such as soda, juice, fruit, candy, and refined carbohydrates. Because the sugary ingredients stick to your teeth, it can lead to gum disease if you don't have a top-notch oral hygiene routine.
By following these preventative measures, you'll reduce the chances of experiencing gum disease and needing teeth scaling and root planing.
Call Bridge Creek Dental for preventative dental care
Schedule preventative dental care with Bridge Creek Dental if you believe you are suffering from early-onset gingivitis. Our team can detect small problems during your dental cleaning before turning into major health concerns such as gum disease and tooth loss.
Here at Bridge Creek Dental, we specialize in providing preventive dental care for your entire family. Give our team a call to schedule an appointment in Billings, MT.
Share This: