Dental implants are a durable, aesthetically pleasing permanent solution for patients with missing teeth. Whether you lost a tooth due to accident or injury, decay or oral surgery, dental implants can be a less intrusive option for you than dentures or bridges. At Bridge Creek Dental, our dentists are experts at making sure the implant matches the rest of your teeth, allowing you to enjoy your smile again.
What Are Dental Implants?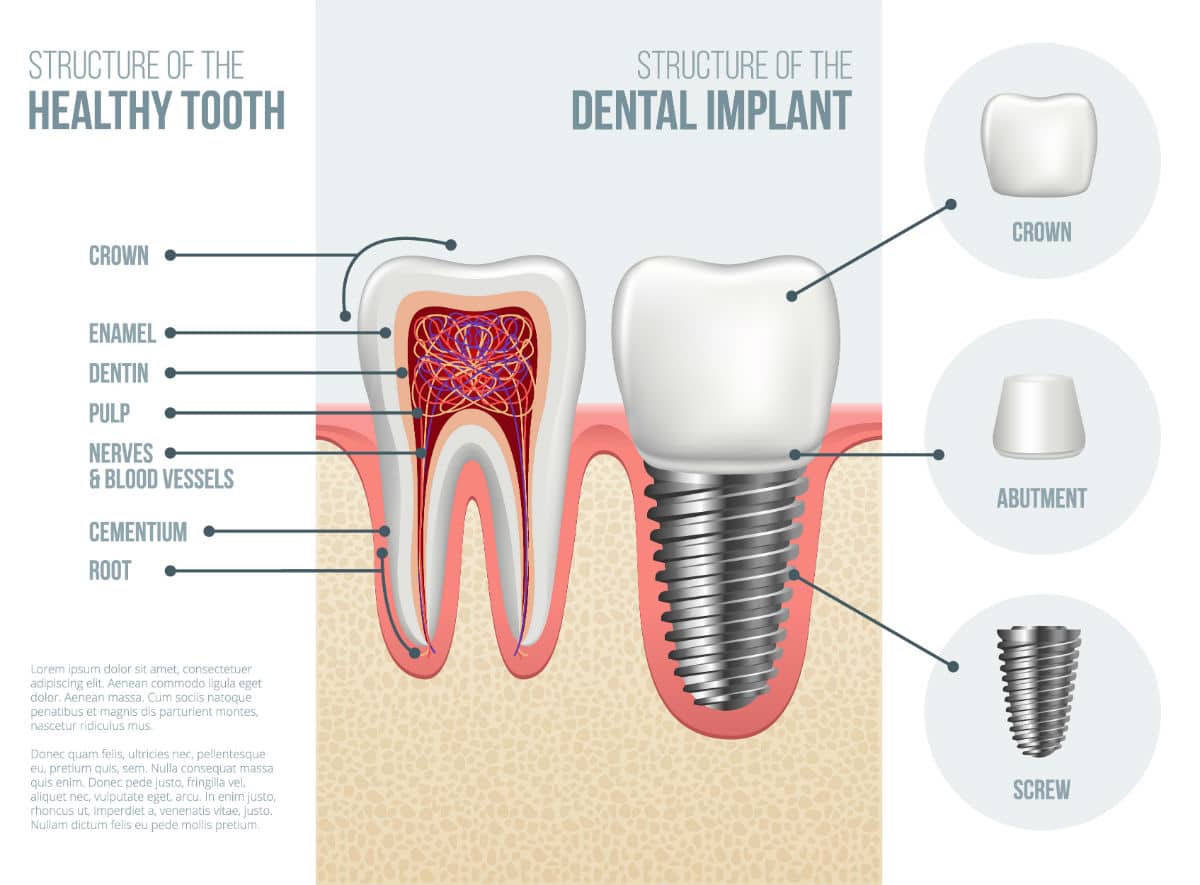 Dental implants are tooth-colored ceramic crowns affixed to a titanium post. The posts are surgically implanted into your jawbone. The crown of the dental implant is created to match the color and shape of the original tooth so that the new tooth fits in with the rest of your natural teeth. Our dental surgeon performs the procedure to ensure the procedure goes smoothly. Most healthy adults with no other oral issues are eligible. Once the process is over, you have a permanent crown that will stay in place and feel just like a normal, natural tooth.
Should I Choose A Dental Bridge Or Dental Implants?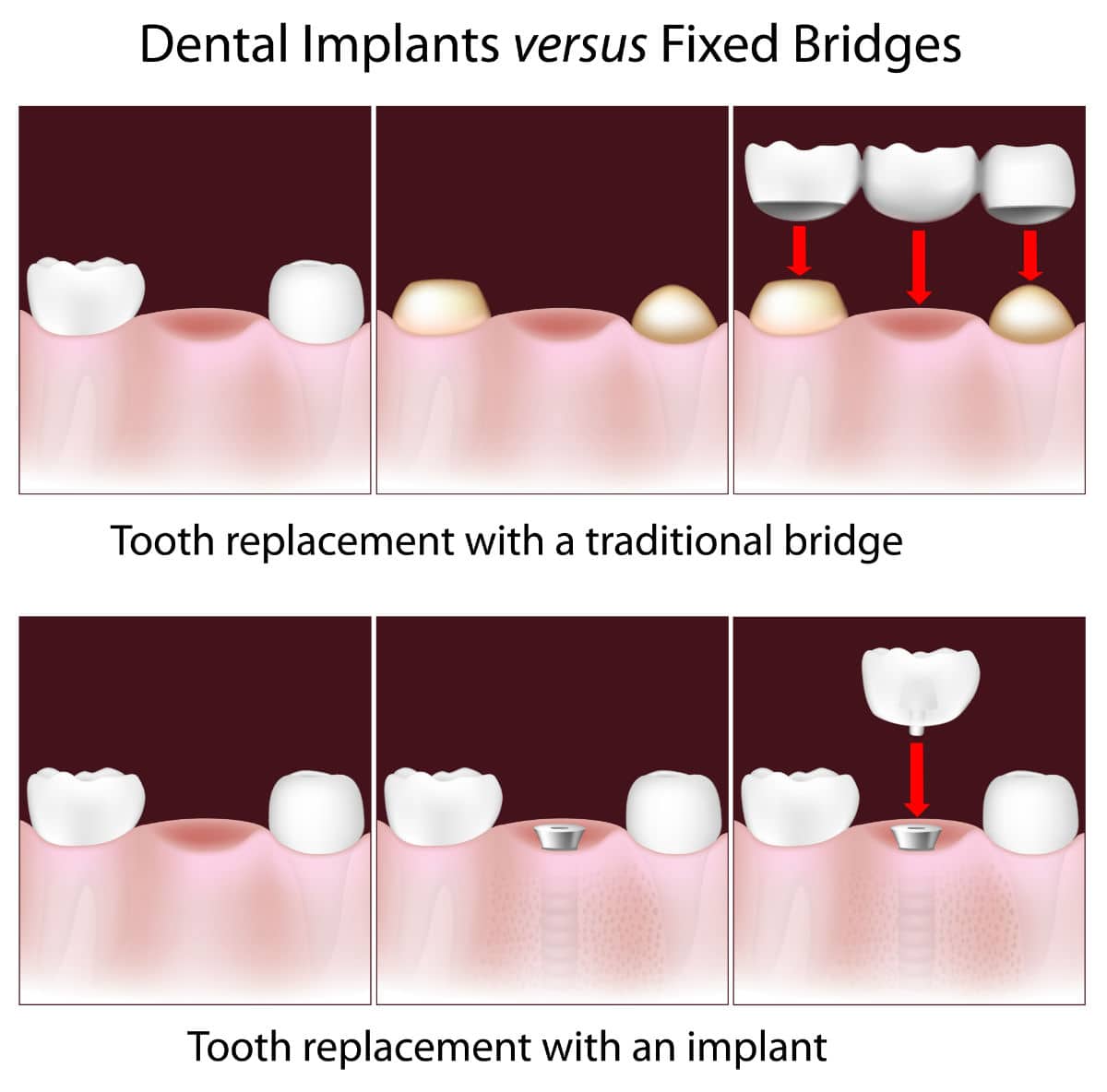 As shown above, a traditional dental bridge requires the two neighboring teeth to be ground down and capped so they can support the replacement tooth. This can be traumatic for the neighboring teeth, and the spot on the jaw bone where the replacement tooth rests may thin over time as there is nothing to support it. As traditional bridges need to be replaced every 5 to 7 years, this represents a larger investment than originally expected.
Upfront, a dental implant to replace a missing tooth is more expensive than a dental bridge. However, dental implants can last between 10-15 years, possibly longer with excellent oral hygiene habits. The implant will support your jaw bone and prevent thinning in the jaw that occurs with dental bridges. Also, choosing an implant is less traumatic for the neighboring teeth, as they remain unaffected by the dental implant.
Are Dental Implants Better Than Dentures?
Traditional dentures tend to loosen in the mouth or make clicking sounds when you talk, speak or sing. As they are secured with adhesives which need to be applied daily, they will never be as secure as dental implants. However, a full mouth of implanted teeth can be very expensive.
Blending the excellent dental implant technology with dentures, it is now possible to implant your dentures permanently. This allows for greater security, as your implanted dentures will remain stable in your mouth no matter what you are doing. It is also less expensive than having all your teeth replaced with dental implants.
Will Dental Implants Be Right For Me?
During your consultation with the dentist, ask about dental implants. Our dentists will evaluate your overall oral health and specifically your mouth where there are missing teeth. In general, dental implants are a viable alternative for healthy adults whose jawbones have stopped growing. Some existing medical conditions may eliminate dental implants as an option for you. Be sure to disclose any issues during your consultation. Other conditions, like not enough bone, gum disease or smoking habits, may also affect your candidacy for dental implants. If you do have issues such as bone loss or gum disease, our dentists will work with you to help your mouth become healthy enough for dental implants.
If you would like to learn more about dental implants, dentures or any other dental service, please contact Bridge Creek Dental at (406) 652-1600 for a consultation. We look forward to serving you!
Share This: