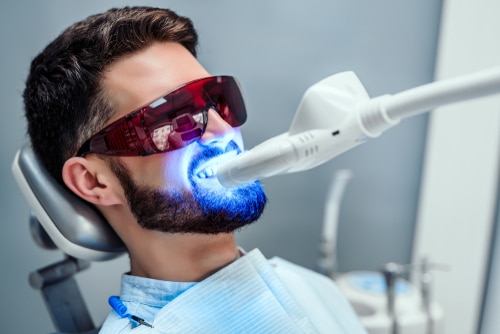 What is one of the first things that you notice about a person when you meet them for the first time? Is it their outfit, their shoes, or their smile?
Studies show that the first thing that most of us are drawn to when we meet someone is their face. This is because it is usually the first place that our gaze goes to when we meet a person.
Much money and attention is put into make-up, glasses, and facial jewelry each year, yet it's hard to put a price on a beautiful smile.
Are there things that you would like to change about your smile? It doesn't have to be big changes to see results. Studies have proven that even something as simple as whitening your smile can increase your self esteem and confidence!
What Is Teeth Whitening?
Teeth whitening is a procedure that brightens your smile by reducing the appearance of stains on your teeth. There are many different ways to whiten your teeth. Even some home remedies are recommended as whitening agents:
Swishing with coconut oil

Brushing with baking soda toothpaste

Swishing with apple cider vinegar
Some of these home remedies do work for some people, however, they usually won't be strong enough to combat yellowish teeth or deep stains. Also, even when it comes to using home remedies for whitening, too much of even a good thing can be too much for your teeth and could possibly cause damage when used long term.
For whitening yellowish teeth or teeth with deeper stains, we recommend professional teeth whitening. Over-the-counter whitening products are still an available option but due to the difference in strength, we recommend the professional products.
At Bridge Creek Dental, we offer professional whitening in both in-home and in-office treatments. The in-home whitening usually brings about the best results because it is a 1-2 week process. The in-office treatment is a one time treatment that only takes about one hour to complete.
Am I A Good Candidate For Teeth Whitening?
When we look at how teeth whitening works, we can see that it may not work for everyone. Whitening works by penetrating the enamel layer and oxidizing the darker under structures of your tooth. This causes your tooth to lighten in shade which helps to brighten your smile.
To determine if you are a good candidate for teeth whitening, let's take a closer look at how whitening works. Teeth whitening products only whiten natural tooth surfaces. If you have crowns or fillings on your front teeth, you will definitely want to consider this whitening fact because it could make your crowns and fillings become more visible to others.
Now there are ways to get around this such as whitening your teeth to a shade that you like and then changing out the color of your crown or filling to match the new shade. This will likely be a bigger investment of time and money due restorative work needing to be done, but it is definitely an option.
Other hesitations for teeth whitening include those with sensitive teeth. While teeth whitening doesn't affect the sensitivity of most people's teeth, we do sometimes see that it makes those who naturally have sensitive teeth experience even more sensitivity. Most of this sensitivity is related to extreme temperature changes such as going from something very cold to something very hot.
Not sure if you are a good teeth whitening candidate? No problem! Our dental team is very knowledgeable about whitening products and procedures and they can help evaluate your teeth and let you know what would be best for you. If you're interested in whitening your teeth, schedule an appointment with one of our dentists. The process is simple and relatively quick and the results are great and effective!
Share This: