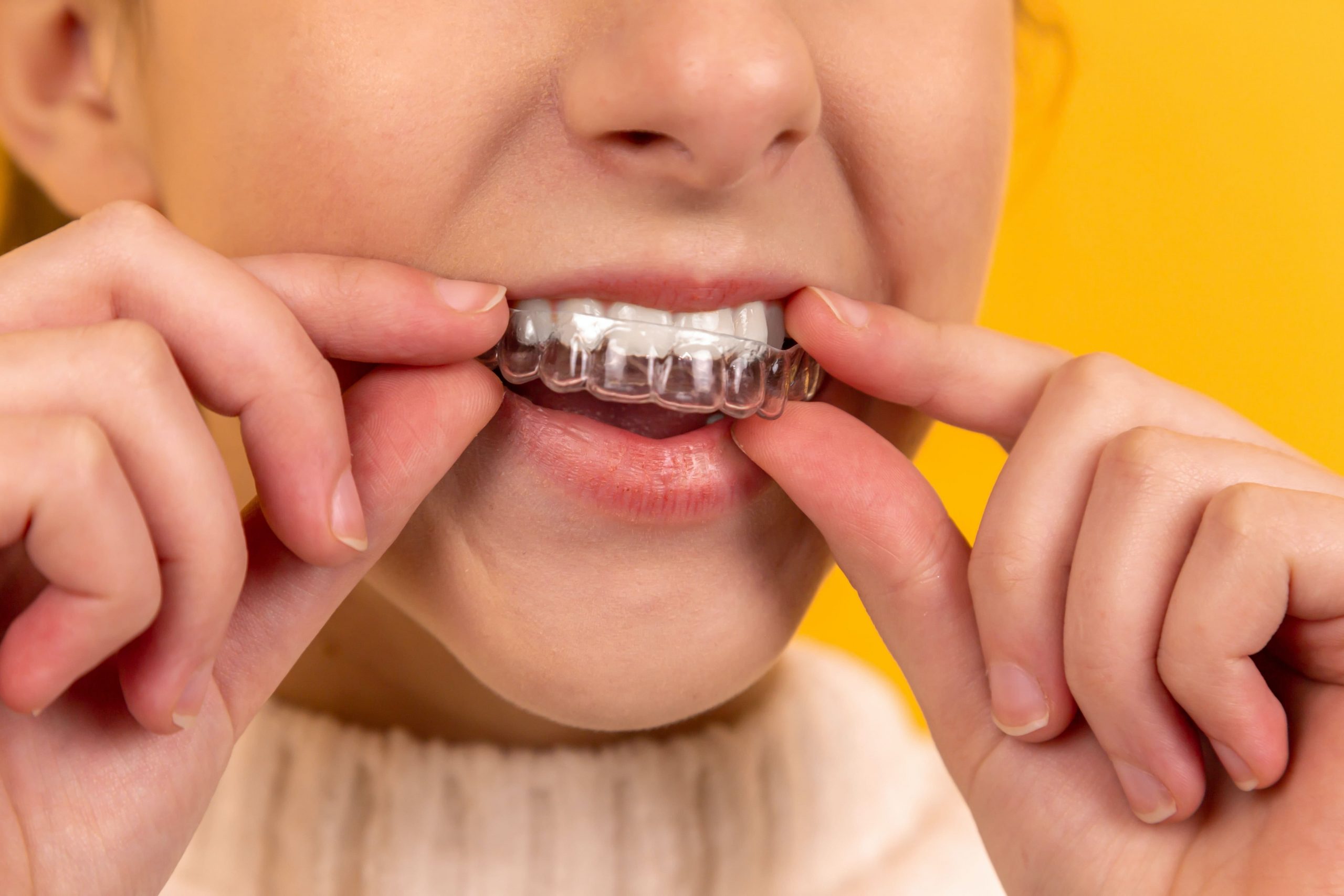 Whether you're seventeen or twenty-seven, a misaligned smile can make you feel self-conscious. It may impact your willingness to smile, laugh, and generally be yourself. Crooked teeth can also potentially lead to a host of other dental concerns if not addressed in a timely manner.
For years, traditional metal braces were the go-to solution to remedy a crooked smile. While they remain one of the most effective means of addressing several orthodontic needs, clear aligners have fast become a popular option for some patients.
Are you considering clear aligners to address minor alignment issues? Perhaps you're looking for a less visible way to straighten your teeth? Learning all there is to know about clear teeth aligners can help you to make the best decision to meet your orthodontic needs.
What are clear aligners?
As the name would imply, these orthodontic solutions are clear. The system is made up of a series of aligner trays that are worn in succession. Unlike the traditional braces system, clear aligner trays can be removed for eating and cleaning. There are some excellent benefits to be seen when you can remove your orthodontic trays.
All orthodontic solutions work in the same basic way. They apply steady pressure to your teeth to realign them in a preferred position. The difference with the aligner tray system is that each of the trays works to gradually nudge the teeth into the desired position. The pressure, as with other orthodontic options, is constant and steady.
The pros of clear aligner systems
Perhaps the most significant pro is that clear aligner systems work. They get results for patients who do not have otherwise complicated orthodontic concerns. Along with the knowledge that you will get the results you want, you'll be afforded improved comfort over other orthodontic options.
There aren't any brackets or wires to worry about, so you will not face the same discomfort you would otherwise have with traditional braces. Clear aligner trays are quite similar in design to a mouthguard, with the smoothness that won't cause irritation or injury.
Clear aligner trays are a good orthodontic option for those who don't want to deal with the way traditional braces look. Most people around you won't be able to tell that you have your aligner tray in place. This makes them a good option for adults who are interested in discretion when repairing their smile.
A definite plus about clear aligners is that they can be taken out when you need to eat or care for your teeth. You can enjoy your favorite foods without the restrictions that accompany traditional braces. You will also be able to practice good oral hygiene, which will reduce your risk for cavities and gum disease while straightening your teeth.
It's also a snap to maintain your aligner tray. It can simply be cleaned and popped back into place.
The cons of clear aligner systems
Clear aligner trays have many benefits. There are also some potential cons for you to consider.
The costs of aligner trays can be more expensive than other orthodontic options. Insurance typically does not cover these orthodontic solutions, which means you may need to pay entirely out of pocket.
While you can remove the aligner trays when you need to, you will need to wear them for at least 22 hours each day. This means that even if you're heading into a meeting or going out for date night, you need to keep them in place. If you don't, you won't see the full benefits.
No orthodontic solution is going to be completely free from discomfort. While your clear aligner trays won't stab or irritate your cheeks and lips as metal braces will, they will still apply constant pressure to your teeth. This pressure can be somewhat uncomfortable and even painful when you are adjusting to a new tray. Over-the-counter pain relievers can help, and the discomfort should pass.
You will likely need to brush your teeth a few extra times a day, particularly after meals. This can be frustrating for some. If you don't, however, you could be increasing your risk for tooth decay.
Invisible aligner trays are not the right solution for every person. If you would like to determine whether you could benefit from a clear aligner solution, a consultation with your dentist can help.
Share This: