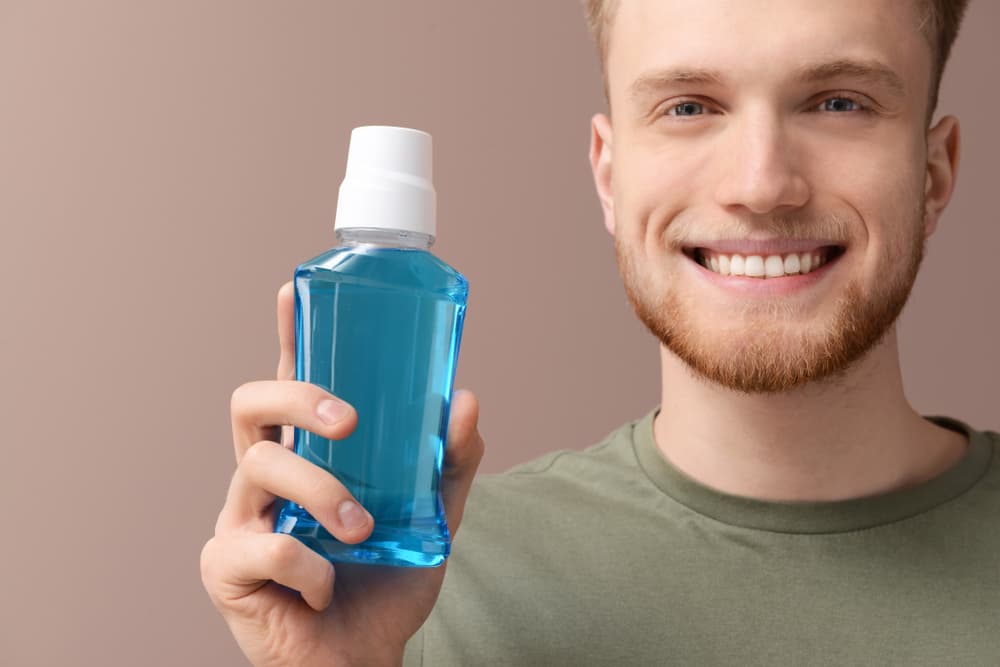 You know just how important it is that you brush your teeth twice a day and floss at least once a day. But what do you know about mouthwash and the importance of using it? This minty fresh blue or green mouth rinse can definitely leave your mouth feeling fresh. But just how does it work to benefit the health of your mouth?
It may feel almost wrong not to wrap up your oral hygiene routine without a swish of mouthwash. Do you know whether it is good for the health of your teeth?
As the dentist Billings MT patients rely on, we have done the research for you. You just might be surprised to learn that mouthwash is both good and potentially bad for the health of your teeth.
When Was Mouthwash Introduced?
Humans have been using a mouth rinse, in one form or another, since the earliest recordings in history. It may have been from unsavory sources such as urine, and a far cry from what we are used to using today, but the thought processes were that these bottled rinses could disinfect the mouth and even whiten teeth.
Through the years, other rinses were used with the idea that they could clean teeth and disinfect mouths. Vinegar, wine, mint leaves, berries, and even simple plain water were all thought to be good choices for keeping teeth clean.
It was not until the 18th century that it was discovered that bacteria could be killed by dousing them in alcohol. It was around this time in history that alcohol became the primary ingredient that was used in mouth rinses.
Today's mouthwash can be found offered in a solution to treat just about any oral health concern. From addressing plaque buildup, to preventing gingivitis, there are a number of options to choose from when you head down the dental care aisle in your grocery store.
Mouthwash Options To Choose From
Generally speaking, there are several types of mouthwash available on the market today.
Desensitizing mouthwash can help to reduce the sensitivity in teeth and gums
Fluoride containing mouthwash, to offer additional protection to the enamel on the teeth
Cosmetic mouthwash that does not necessarily combat bacteria, but will leave your breath fresh and minty
Whitening mouthwash, which typically contains a bleaching agent to address minor staining on the teeth
Anti-plaque mouthwash, which helps with the fight of gingivitis
If you are concerned about the type of mouthwash that is best for your dental wellness needs, be sure to speak with your dentist when you are seen for your routine checkup or professional cleaning.
Benefits Of Using Mouthwash
There are several benefits to using mouthwash, that cannot be disputed.
Mouthwash can help to freshen your breath. Some mouthwashes effective kill some of the bacteria that is responsible for bad breath, while also adding a freshness to your breath. Everyone can agree that fresh breath is a great way to start your day.
The plaque that builds up on the surfaces of your teeth can result in cavities, advanced decay and also gum disease. This inflammation and infection can prove to be very troublesome for the health of the gums and the teeth. It can also result in the loss of one or more teeth. Mouthwashes can help to rid your mouth of some of the bacteria responsible for plaque buildup, and can also rinse away some of the plaque itself.
Potential Cons To Using Mouthwash
Mouthwash can bring with it a few potential downsides to use. It is important to note that many of these potential downsides are associated with mouthwashes that have alcohol in them.
The alcohol that is found in many types of mouthwash can have an increasing effect on the teeth by increasing sensitivity. In addition, the alcohol in mouthwash can also prove to be an irritant to the soft tissues in the mouth. Those who have canker sores or oral ulcers may find that the mouthwash burns and hampers healing.
Alcohol can also have a drying effect, which can reduce the amount of saliva in the mouth. Saliva plays an important role in keeping your mouth healthy. It also helps to reduce the amount of food debris left behind in your mouth after you eat.
Is Mouthwash Recommended By My Dentist?
It won't prove detrimental to your dental wellness if you skip the mouthwash. That said, there are some reasons that your dentist may recommend that you don't skip it.
If you have gum disease, mouthwash can help to keep your gums less inflamed, while reducing bacteria in the mouth. It can help to prevent cavities and other dental health concerns.
Remember that mouthwash is not a suitable replacement for brushing your teeth. It can help to mask bad breath and promote dental wellness.
How Does Mouthwash Work?
Mouthwash uses antiseptic ingredients to kill bacteria naturally present in the mouth. These antiseptic ingredients may include alcohol and menthol. When you swish it around in your mouth, it gets to those hard-to-reach areas that brushing and flossing alone cannot reach.
Schedule your next checkup or professional cleaning, to ensure that your teeth and gums are free from potential concerns that include cavities and gingivitis.
Share This: