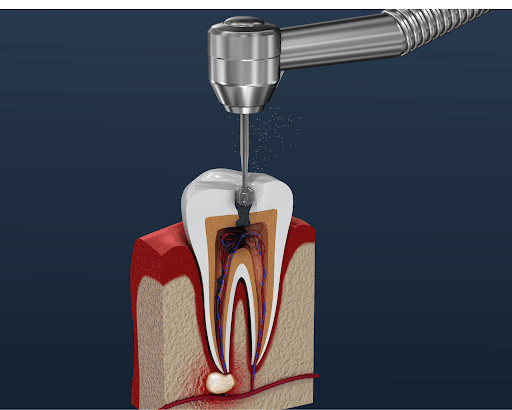 Are you experiencing tooth pain? Many patients get nervous when they experience tooth pain because it causes them to wonder if they need a root canal. It can be hard to tell what treatment is needed without seeing your dentist, but having an idea of the various tooth signs and symptoms you may be experiencing may be helpful.
Let's first lay the foundation to root canals. A root canal is a dental procedure to treat an infected tooth. In this procedure, the pulp area of the tooth is cleaned out by a dentist or endodontist. Special instruments remove the nerve and blood supply that runs through the tooth's pulp chamber.
Pain types that may indicate a root canal infection include:
A throbbing toothache

Pain that is so intense you can't sleep at night

Pain triggered by specific stimuli such as tapping sensitive or hot and cold sensitive

The pain doesn't seem to decrease even when taking painkillers
Can Root Canals Be Prevented?
Often root canals are preventable. Brushing and flossing are the best ways to avoid issues leading to root canals. Poor home care has been shown to increase your chances of getting tooth decay. If decay isn't dealt with in the early stages, it could lead to a tooth infection and a root canal to treat the tooth. Thus, routine dental visits and good home care are some of the best ways to avoid needing root canals.
How Long Will A Root Canal Last?
Some root canals last ten or more years, while others don't seem to make it even a year. Why is this?
How long a root canal will last depends on many different factors:
The initial extent of the decay:

More decay means that your tooth is more severely affected, and this can sometimes affect the long-term prognosis of your tooth.

Location of the affected tooth:

Teeth towards the front of your mouth have one canal, while molars in the back have three canals. This can affect the success of your root canal.

Dentist's skills:

Having your root canal done by a skilled dentist or endodontist is essential. If a root canal is done poorly, it is possible that treatment can fail due to poorly done work.

Your age and health:

Health factors and age can affect how long a root canal lasts. As you age, your teeth become more brittle, which can affect the long-term success of your root canal.

Home care:

How you care for your teeth can also affect the long-term effects of your root canal. Regular examinations and dental cleanings will also be crucial in the maintenance of your root canal.
Is There Anything That Can Be Done To Help With Root Canal Pain?
When it comes to root canal pain, pain is usually present because of an infection in your tooth. There is not much you can do for this pain other than having your dentist fix your situation with a root canal. Sometimes the pain may go away temporarily, but it usually returns as the infection builds.
If you are experiencing tooth pain, don't wait any longer. Visit your dentist to evaluate your tooth and get the treatment it needs! When it comes to teeth, it is always best to get to the root of the problem as soon as possible. This may help keep you from needing emergency treatment for your tooth.
Share This: