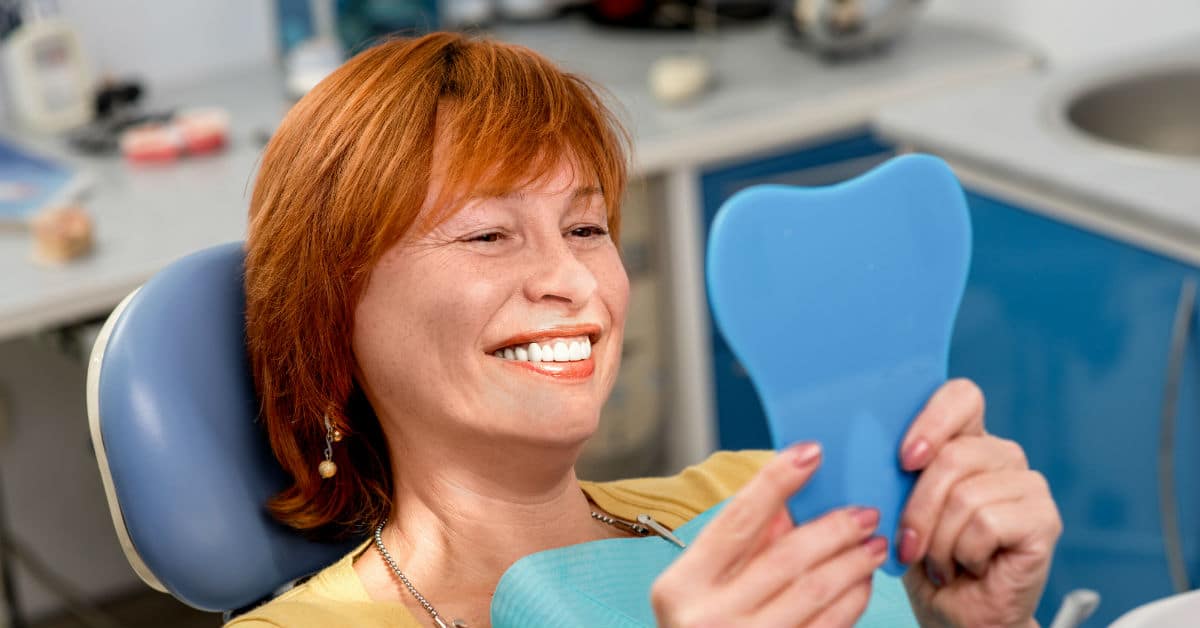 Many people worry about the appearance of their teeth, but some people's mouth concerns rest elsewhere: their gums.
We've all seen a "gummy smile," one where flashing those pearly whites means displaying quite a bit of pink tissue. It's generally a sign that your teeth are small compared to your gums, as part of your genetic legacy or because of wear and tear. Excessive gums can also result when teeth fail to emerge properly, leaving them partly covered by tissue.
There are varying degrees of gum exposure.
For slightly gummy smilers like songstress Liz Phair, the peekaboo reveal can be a cute quirk. In more severe cases, all that gum can make for a truly idiosyncratic grin. This condition can be even more problematic if you suffer from other periodontal issues like uneven, inflamed or swollen gums. Luckily, there's help to be found.
If you dislike your gummy smile, the certified dental surgeons at Bridge Creek Dental in Billings, Montana are ready to lift your spirits. Our dentists can perform a gum lift, a procedure also referred to as
A gingivectomy
Crown lengthening
Gum contouring
Tissue sculpting
Your gum lift may be part of a larger smile makeover, like having your teeth contoured and topped with crowns or veneers. It may also be complicated if you have uneven gums where the tissue is low-hanging in some areas but has receded elsewhere. In this case, your dentist may perform a gingival graft, using tissue from an adjacent area on the gums or from the roof of your mouth.
In most cases, however, a cosmetic gum lift is a routine standalone procedure.
A Cosmetic Gum Lift Is Quick and Easy
If you're a candidate for periodontal surgery, you've probably obsessed over your smile for years. You may have even become resigned to the fact that you'll always have a gummy grin.
In truth, however, a cosmetic gum lift is a quick and relatively painless proposition. Here's how it works.
After numbing your mouth with a local anesthetic your dental surgeon sculpts your gums, especially the area around your front teeth which is the most visible portion of your smile. In most cases, no stitches are required. Instead your dentist uses a soft-tissue laser to seal off the blood vessels, staunching any bleeding.
After you leave the dentist, your mouth may be numb for a few hours until the anesthesia wears off. You may also experience swelling and mild discomfort for the next 24 to 40 hours. Your dental surgeon may prescribe medication, but in most cases an over-the-counter painkiller is sufficient.
You can eat and drink within 24 hours after your surgery and gums typically heal completely within a week after being lifted. Recovery may take longer, however, if you underwent additional dental procedures at the same time as the tissue sculpting.
Decide If A Gum Lift Is Right For You
To decide if this procedure is right for you, begin by looking online at before-and-after photos of people who've benefited from this procedure.
Actress Jennifer Garner, who's known for her dazzling and dimpled smile, had surgery to correct a smile that was once too gummy for those up-close shots on the silver screen. For examples of how a gum lift has transformed everyday people in your area, check out the periodontal section of the smile gallery on the Bridge Creek Dental website for inspiring before-and-after photos.
For more cosmetic dental procedures, Bridge Creek Dental also offers the following::
If you like our results, it's time to set up a consultation. You've got nothing to lose but some excess gum tissue and everything to gain, including a winning smile.
Visit Bridge Creek Dental for Dental Care
Whether you need a gum lift or other dental services, contact us for an appointment. Our dentists are highly experienced and offer a range of dental care services to help you enjoy the best oral health.
Share This: