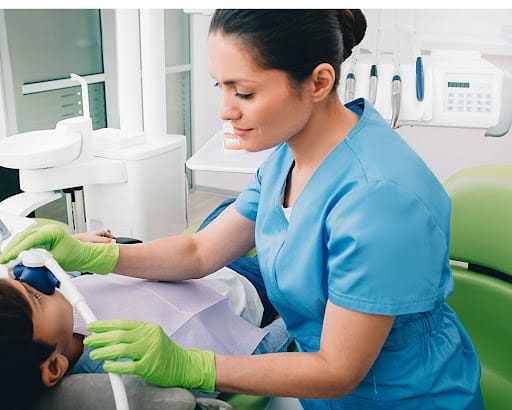 Many people enjoy visiting their dentist, but dental anxiety is a real struggle for some people. Some people experience so much anxiety around going to the dentist that they avoid going to the dentist altogether. We don't want it to be this way for our patients, and we don't want it to be this way for you either. You need to get the treatment you need to keep your teeth and gums healthy.
Thankfully, technology has come a long way over the years. Today, sedation dentistry is an excellent option for those who struggle with anxiety or fears when visiting the dentist. It truly has changed dentistry, even for our most nervous patients!
How Does Sedation Dentistry Work?
Sedation dentistry involves using medication to help you relax for dental procedures. When it comes to sedation dentistry, different types and levels of sedation can be used. The most common types of sedation used for dentistry are:
Nitrous Oxide or laughing gas
Oral Conscious Sedation
Intravenous Sedation (IV Sedation)
A type of sedation is chosen based on your medical history, previous dental experiences, and dental treatment being performed. In many cases, nitrous oxide can help relax you with mild to moderate dental anxiety.
Our dentists are specialized in sedation dentistry. They can help calm your dental fears and align you with sedation to keep you comfortable and relaxed for dental treatment. For patients with higher levels of dental anxiety, those who haven't responded well in the past to nitrous oxide, or those receiving more involved dental treatment, an oral sedation medication or IV sedation may be used.
Dental Anxiety and Sedation Dentistry
Sedation can be used for any dental experience; however, it seems more commonly used for restorative treatment, dental extractions, and dental surgeries. If you find getting through a dental cleaning a real challenge, perhaps trying something like nitrous oxide could be a great option. Individuals suffering from dental anxiety can find relief from sedation dentistry as it helps to calm the nervous system.
Am I A Good Candidate For Sedation Dentistry?
While sedation dentistry is a good option for many people, it's not necessarily for everyone.
Dental sedation is contraindicated for patients with liver and kidney disorders. These patients tend to have a hard time metabolizing drugs, and thus they can experience hypo or hyper responses to sedation drugs.
It is recommended that those who are pregnant refrain from sedation dentistry. If sedation dentistry is absolutely necessary, it is recommended to do it during the second trimester, but it would be best to defer dental treatment until after the baby is born.
Sedation dentistry can be a concern for people with diabetes since they have more significant fluctuations in their blood sugar levels. If a person with diabetes will receive dental treatment, it is best if their sugar levels are well maintained.
Those with respiratory conditions (COPD, sleep apnea, asthma, bronchitis, sinus problems, etc.) are at higher risk of complications from sedation dentistry. This is because most sedative medications can severely affect the body's ability to maintain normal breathing. Thus, those who already have breathing difficulties aren't good candidates for sedation dentistry.
It's always best to review your medical and dental history with your dentist prior to any dental procedure. Our dentists care about your comfort and being able to get the treatment that you need. Sedation dentistry has made it possible for many anxious patients to receive their dental care. Anxiety doesn't have to keep you from getting your teeth the care that they need! Contact Bridge Creek Dental today to schedule your sedation dentistry visit.
Share This: