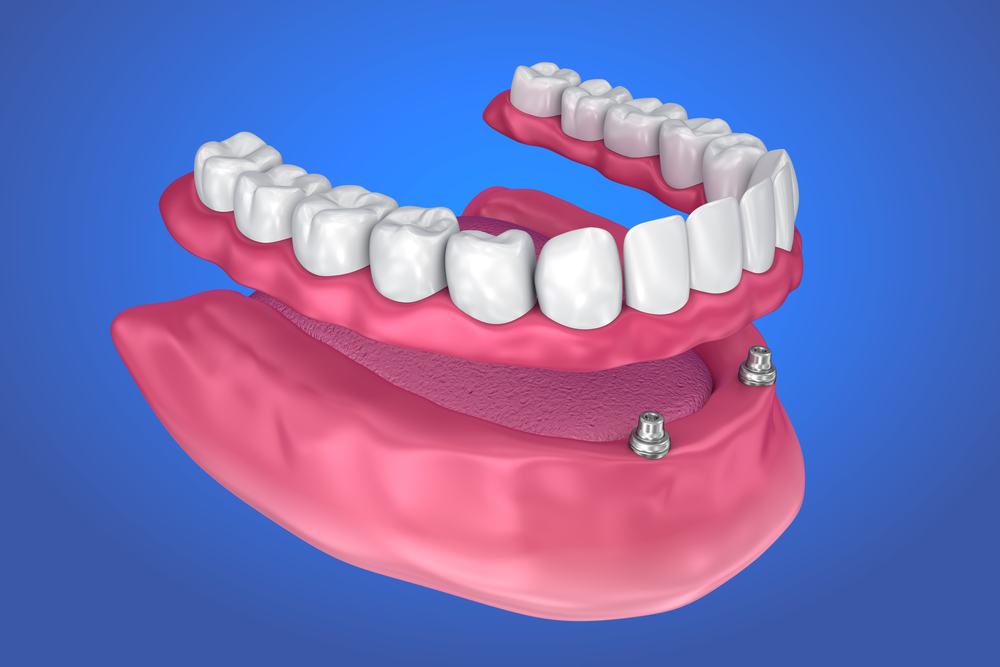 Dentures are an excellent way to restore your smile when you have extensive dental damage and missing teeth. But what you may not know is that there are multiple options when it comes to choosing dentures.
One of the dentures options you may want to investigate when you visit us at Bridge Creek Dental is snap-on dentures.
What Are Implant Overdentures—AKA Snap-On Dentures
Snap-on dentures, also known as implant overdentures, are a type of cosmetic dentistry procedure that combines dental implants with dentures to create a strong and stable smile.
Unlike regular implanted dentures, two implant rods per jaw are usually used to place snap-on dentures. With just two rods, you can more easily snap the denture into place then remove it at night.
Like with permanently implanted dentures, receiving snap-on dentures is a multi-step process. First, the two implant rods are placed in the jawbone. It takes anywhere from 3-6 months to heal from the implanting the titanium rods, then an impression of your mouth needs to be made so that your new dentures can be fabricated. Then, once everything is healed and your dentures are created, you can use your snap-on dentures.
Pros And Cons Of Snap-On Dentures
With snap-on dentures, you combine some of the best attributes of implant dentures and the removability of traditional dentures. But that doesn't mean there aren't drawbacks to snap-on dentures. To help you determine if snap-on dentures are for you, here are the pros and cons of this type of dentures.
Pros to snap-on dentures:
Provides a high amount of stability when using, more than traditional dentures and very similar to permanently implanted dentures.
More affordable than permanently implanted dentures, though a bit pricier than traditional dentures, as the implant procedure adds extra cost.
Improves your confidence when speaking, smiling, or eating, as the implanted rods will hold the dentures steady.
Easy to remove the dentures for cleaning and for storage at night.
Helps patients who have a gag reflex and find the traditional suction of normal dentures uncomfortable.
Cons to snap-on dentures:
This style of dentures doesn't provide as much stability and biting force as permanently implanted dentures, though snap-on dentures are still more stable than traditional dentures.
The snapping on and off of the dentures can wear down the connecting snap area, requiring the denture to be replaced.
Gum tissue and jawbone loss still proceed with snap-on dentures, leaving them to need to be relined to maintain a good fit.
Consult With Bridge Creek Dental About Snap-On Dentures
Snap-on dentures can be an excellent option if you are missing many teeth or need to have multiple teeth replaced. Not only is it more affordable than individual dental implants, but snap-on dentures are able to be removed and cleaned easily. If that appeals to you, our dentists can help.
To consult with one of our dentists here at Bridge Creek Dental to see if you are a good candidate for snap-on dentures, please contact us today. The sooner we schedule your consultation, the sooner you can achieve your ideal smile!
Share This: