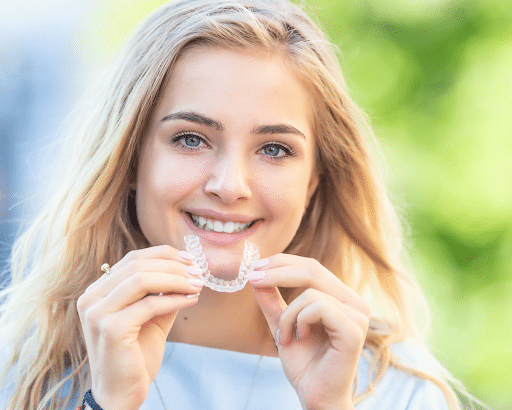 Invisalign is a transparent aligner system that moves your teeth into better alignment. Invisalign's invisible trays make it an excellent option for many adults since many are concerned about braces' high visibility. Invisalign can be used for teens through geriatric-aged patients.
Have you thought about getting braces in Billings, Montana? Invisalign has come a long way over the last decade. Many of our patients have found success with Invisalign. While braces used to be the go-to for straighter teeth, more adult patients choose Invisalign to improve their smile.
Not everyone is a good candidate for Invisalign, but our highly trained dentists can let you know if your situation would be a good fit for this treatment.
How Would Invisalign Move My Teeth?
When you commit to Invisalign treatment, you are committing to their acrylic tray system. These custom trays are made to fit your exact teeth. Most treatment plans have you wearing a tray for 2-3 weeks.
At this time, the tray is putting slight pressure on specific teeth to get them to move to an ideal position. After a few weeks, you will notice that the tray doesn't seem to have the same pressure on your teeth anymore. This is because your teeth have moved to a new position, and now it is time for the next tray to move them to the next position in your treatment.
Does Invisalign Hurt?
Invisalign isn't painful, although it may leave your teeth feeling slightly sore. The first time you put in a new tray, you may feel pressure on your teeth. It is much like having orthodontic braces tightened each month.
Teeth are often sore for the first few days after braces are tightened. This is because pressure is being put on your teeth to move to a new position. Putting in a new clear Invisalign tray is much the same way.
What Symptoms Or Problems Can Invisalign Fix?
Invisalign has treated the following problems in patients. It is essential to realize that there are different severities to each of these symptoms, and some may be fixable with Invisalign while others, in more severe cases, may not be fixable with Invisalign.
This is why it is crucial to seek treatment from a highly-trained dentist or orthodontist.
Do you have any of these symptoms?
Crooked Teeth

Overbite

Underbite

Crossbite

Spaces between teeth (diastemas)

Open Bite

Crowded Teeth

Tooth Shape
How Long Is Treatment With Invisalign?
Treatment length can vary depending on your case's severity, how your teeth respond to treatment, and the pressure exerted by Invisalign. A computer software program takes all your information from pictures, x-rays, and impressions to develop an ideal treatment plan for you.
It also estimates treatment length and determines how many trays your treatment will require. While the software is pretty accurate, sometimes treatment changes a little depending on how your teeth respond to the process.
Regarding treatment length, the average Invisalign treatment is about one year. If just minor changes are needed in your mouth, then treatment may be as short as six months.
Are you interested in Invisalign in Billings, MT? Call our office for a smile consultation. Our highly trained dental team can answer your questions and connect you with the best orthodontic treatment options for you.
Share This: