Esthetic and restorative dentistry is an excellent investment in an individual's well-being. We firmly believe that financial considerations should not be an obstacle to obtaining the treatment you desire. We are sensitive to the fact that different patients have different needs so we provide different payment options to our patients. All financial discussions and arrangements are kept strictly confidential.
Payment Options: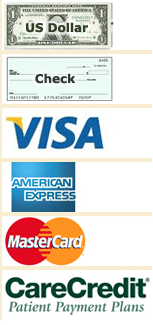 Insurance Accepted:
Most insurance plans are accepted. If you are covered by a dental insurance plan, we will gladly file your insurance forms for you with a request to have the benefits assigned to the office. If you are responsible for a co-payment, we require that this be paid when treatment begins.
CareCredit
CareCredit for dental procedures
We're pleased to offer our patients CareCredit, North America's leader in patient payment plans. CareCredit lets you begin your treatment immediately – then pay for it over time with low monthly payments that fit easily into your monthly budget.
Your healthcare credit card.
CareCredit is the credit card exclusively for healthcare services. With no up-front costs and no pre-payment penalties, CareCredit lets you pay over time and frees up cash and credit cards for the other things you want or need. CareCredit offers low monthly payment plans for healthcare procedures not commonly covered by insurance, including dental treatments. Plus, you can use your card again and again to pay for additional treatment for yourself or family members in any CareCredit practice.
Low minimum monthly payments
No up-front costs, no pre-payment penalties
Learn more by visiting CareCredit.com or contacting our office. Ready to apply? Apply online for your CareCredit card today Apply Now
Share This: