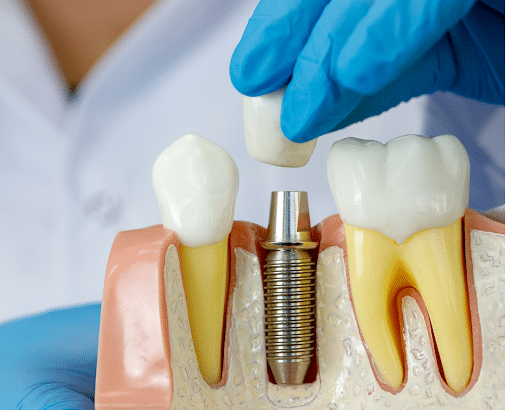 If you experience trauma or decay that leads to a broken or damaged tooth, there are usually two standard options for treatment: dental implants and dental crowns. These treatments are often confused as similar, but they are quite different. There are differences between these two treatments; they are often used in different cases.
What Are Dental Implants?
A dental implant is a prosthetic tooth that is implanted into the gums and jawbone. This prosthetic tooth is usually made from titanium material. Once the titanium structure is stable, A crown can be attached.
Your dentist will attach the crown after your bone and gum tissue has had time to heal around the titanium implant. Usually the healing phase is about three months. From this time forward, you will feel like you have a natural tooth. You can now chew on and care for this tooth like any other tooth in your mouth.
Dental implants serve as an alternative tooth if you need an extraction. Often a tooth can be saved with a filling, crowns, or root canal. If the damage to your tooth is too significant to keep it, your dentist may recommend a dental implant.
Dental implants are considered a dental surgery and are usually done while under general anesthesia. You will be comfortable during the procedure, and if you feel any pain after the anesthesia wears off, you can generally be prescribed pain medicine.
What Are Dental Crowns?
Dental crowns are protective caps that can cover an existing, damaged tooth. Crowns don't replace the root of your tooth. Rather they are cemented and secured to the healthy root of your tooth.
Often dental crowns are a two-step process. First, we prep your tooth by removing the decayed or broken area. We take impressions of your tooth and send the impressions to a lab to have the permanent crown made. This crown will be the right fit and color for you. You will wear a temporary crown for a few weeks, and then we will place the permanent crown after this.
Once your crown is permanently cemented, it will function as a natural tooth. You can chew on it and clean it around it like your other teeth.
What's The Cost And Longevity?
There are many factors to consider when it comes to dental treatments and their longevity. First, it's essential to look at how treatment is done. Having a knowledgeable and skilled dentist is important. The other thing to consider is how well a tooth is being cared for at home. You can have the best dentist do your work, but if you don't brush and care for it, it could fail and need to be treated again.
Implants can last a lifetime. Since they are made of titanium and then restored with a porcelain crown, they can't decay. Implants can fail if the bone or tissue around them gets infected or has gum disease. Good home care and routine dental cleanings and exams are the best ways to prevent this.
Crowns also have a good prognosis and longevity. A crown that is well done and cared for could easily last 15 years. Again, one of the best ways to increase the life of your crown is with good home care and routine dental cleanings and exams.
Implants tend to have a more significant investment up front, but they also outperform most crowns and hopefully won't need to be replaced. Implants and crowns vary in their investment cost, but implants may be around $4000, whereas crowns may be around $1500-$2000.
Is One Of Them A Better Option?
Choosing between a dental implant or a dental crown really comes down to the state of your tooth and whether or not an extraction is needed. If you need an extraction, a dental implant would be your best option. If you have decay on your tooth, but the root of your tooth is healthy, then protecting your tooth with a crown would be the best option.
The main benefits of dental implants include:
They look and function like natural teeth

The last a long time

You can replace one or as many teeth as needed

They are comfortable
The main benefits of dental crowns include:
They offer protection

They are durable and should last many years if well cared for

They offer cosmetic benefits and can improve your smile
If you're wondering which option is best for you, come to our dental office and our dental team will evaluate your unique situation and let you know the best option(s) for you.
Share This: