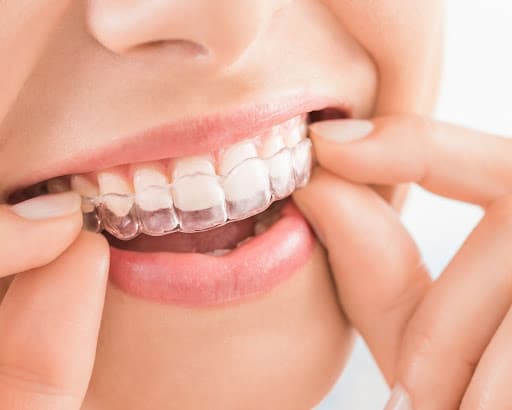 You want straighter teeth and an eye-catching smile, but you're concerned about the year-and-a-half of dealing with braces. It's a common concern for many patients since many realize that braces come with their own set of inconveniences.
Thankfully pokey wires, a mouth full of hardware, and limited access to brushing aren't the only way to obtain straighter teeth. Orthodontics has come a long way over the past decade and now Invisalign is a great option for many of our patients. Have you thought about or considered Invisalign?
What Is Invisalign?
Invisalign straightens teeth through a system of custom-made aligners. There are no metal brackets or wires as with braces. Instead, a transparent plastic tray is placed over your teeth.
Invisalign can be used to treat:
Overbites – When your upper teeth significantly protrude over your lower teeth.
Underbites – When your lower teeth protrude past your upper teeth.
Open bites – When there is a space because your upper and lower teeth don't come into occlusion with each other.
Crossbites – When your upper and lower jaws are misaligned with one another, it causes your teeth to bite improperly.
Gaps between teeth – This may be due to missing teeth or natural occurring space between your teeth.
Overly crowded teeth – This can happen when you don't have enough room in your jaw for all your teeth.
How Does Invisalign Work?
Invisalign shifts your teeth into proper alignment by wearing clear aligners that apply gentle pressure to move your teeth. Invisalign software creates a series of unique trays for only you. Our dental team takes impressions and pictures of your teeth, and then a customized treatment plan is drawn up.
What Do You Need To Do?
Initial Consultation – The first step in Invisalign is meeting with one of our dentists to see if you are a good candidate for Invisalign. This is a quick and easy examination in which they review your medical history and check your tooth alignment to make sure you're a good candidate for Invisalign.
Molding Process – The molding process uses radiographs, pictures, and impressions of your teeth to draw up an accurate mouth model. It's from this model that your custom aligner trays are created.
Fitting The First Tray – Once your custom trays have arrived, you will try on your first tray and make sure that it fits properly.
Follow-Up Appointments – You will be changing to your next aligner trays every few weeks so that your teeth continue to move. Periodically we will see you back in our office to make sure that everything is progressing as it should.
Wear Your Aligners – While it can be tempting to take your aligners out for a while, this is not good for your treatment. Aligners should be worn 21 hours a day and only taken out while eating. This will ensure the most success in your treatment.
How Long Do Braces Need to Be Worn?
Invisalign treatment length can vary depending on how much moving your teeth need to do to get to their ideal location. Invisalign is usually similar in length to braces treatment, but one of the wonderful perks is that no one will notice that you are in Invisalign treatment. These clear aligner trays keep you out of the awkward braces phase. On average, Invisalign treatment takes 1-2 years to complete; however, it can take longer in more severe cases.
Are you considering straightening your teeth? Our dentists are specialized in evaluating your specific case to see what options are best for your unique situation. Schedule your consultation appointment today to see if you are a candidate for Invisalign treatment!
Share This: