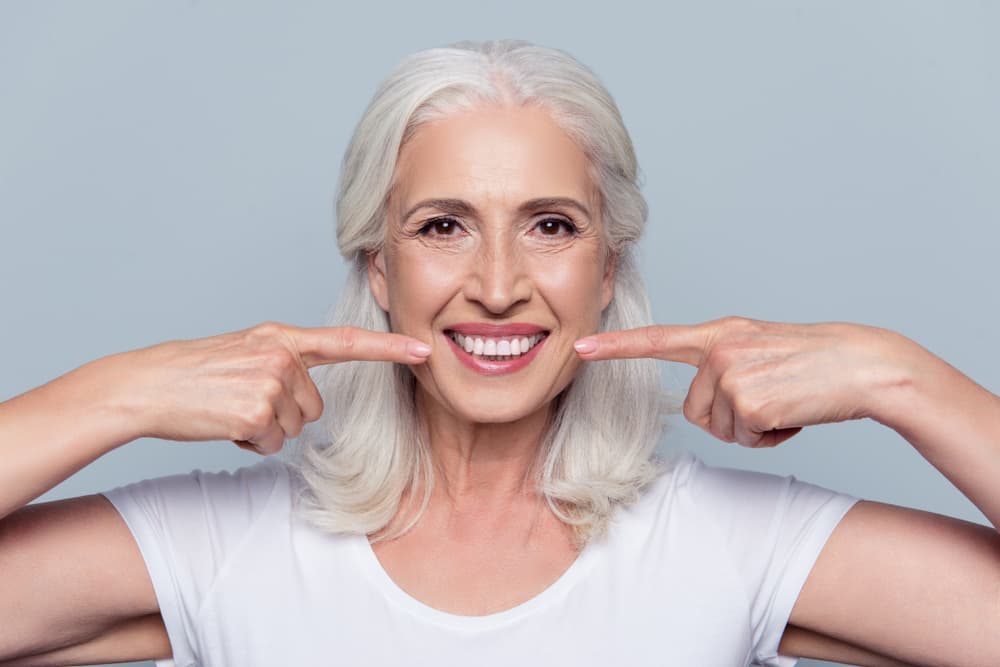 The loss of your natural teeth can take a toll on your self-confidence, and also potentially impact the health of your mouth. Believe it or not, missing teeth can also influence your overall health. Dentures have long been the standard smile restoration solution.
Denture technology has come a long way since the early days of fake teeth made from ivory and wood. Dental implants also offer an alternative that denture patients will learn. When it comes to dental implants vs dentures, just which option is the better one for you?
There are potential pros and cons to each, with some key differences between the two.
The Pros And Cons Of Dentures
Dentures can restore your smile, but can also restore functionality that you may have lost after losing some or all of your teeth. Advancements in dental technology have eliminated many of the concerns patients once had about dentures of the past.
That said, there are still some potential drawbacks to dentures that go hand-in-hand with the positive aspects of these dental prosthetics.
Perhaps the best positive aspect of dentures is that they are a quick way to create a cohesive smile restoration that will also boost your confidence. Dentures are a cost-effective solution that can restore the shape of a face altered by the loss of teeth. Unless dentures are supported by implants, they do not typically need the patient to undergo oral surgery.
Dentures have different requirements when it comes to the health of your gums and jawbone. Dental implants will require healthy bone in the jaw, along with healthy gums to support the implants. Dentures are an option if the mouth is not yet healthy enough for dental implants.
Dentures are very easy to maintain and keep clean, which is something every denture wearer can appreciate.
One of the potential drawbacks to dentures is that they can wear down over time, and they will need to be replaced. It's worth remembering that replacing dentures is considered to be relatively easier than replacing dental implants. That said, there are several steps and procedures that patients need to go through when getting dentures. This includes several return visits to the dental office. Appointments will involve making molds of your gums and mouth, along with the surgical extraction of any remaining decayed teeth. It can also take several fittings to ensure that the dentures fit comfortably.
The Pros And Cons Of Dental Implants
Dental implants are an increasingly popular smile restoration solution, and for good reason. They offer a number of great benefits for the patient looking to restore a smile. When the implant and crown are successfully in place, the dental implant will look, feel and function just like a natural tooth does. The implant serves as a permanent replacement for the lost tooth, which provides support for the bone structure and makes bone regression much less likely. The titanium post permanently fuses with the bone in the jaw, which ensures stability. This stability can contrast with the movement that's possible with dentures, particularly when eating and speaking.
With correct care and ongoing dental care, dental implants can last a lifetime.
Even with all of the incredible benefits offered by dental implants, some potential drawbacks may make them a less than ideal option for some patients. The dental implant process can take as many as six months. The implant needs to be surgically placed and will need time to completely fuse with the bone in your jaw.
For those who are looking for a rapid restoration for their smile, dental implants are not necessarily the right direction. In some patients, there may be a need for additional surgical procedures. Those who have experienced bone regression will not have the necessary bone structure that is required to provide support for the implant. A bone graft will be needed prior to the placement of the dental implant.
Infection is rare, but always possible. A gum infection could risk the stability of the dental implant. Your dentist will be able to quickly address any infection, however.
Dental implants offer a permanent restoration solution to the loss of one or more teeth. They are however a costlier consideration over other restoration options.
Denture vs Implant, Which Is Best?
There are several differences between dentures and implants, with there being several positive aspects to each option. Ultimately, there is no right or wrong choice. The best choice will depend on factors that are unique to each patient, including the number of missing teeth, the health of the jawbone and gums, budget and more.
Your dentist will examine the health of your gums and jawbone and help you to weigh the options that will best work for your individual dental situation.
Speak to your dentist about dental implants versus dentures, and how each can benefit you. Call us to schedule your consultation.
Share This: